By Samantha Gonzalez.
Kids love to create. It's in their nature. My belief is that we can all benefit from a regular dose of creativity. So here are 5 projects you can do with your kids to get those creative juices flowing!
*Note these were designed with toddlers and preschoolers in mind, but older kids would love them too, as well as their parents!"
1.) Crown decorating
For this you'll need:
Paper (construction or printer paper works fine, but for sturdiness, we used poster board)
Paint supplies
Glue
Rhinestones/Glitter/Sequins/Anything sparkly!
Start by making a quick measurement of your child's head. Cut the paper or poster board that length, plus 2-3 inches. Add paper with glue or tape as needed.
Then cut a few points at the top of the rectangle. You can let your child dictate how many and what size to you if they are old enough. We want to give them as much involvement as possible!
Let them paint away!
Wait for the paint to dry (maybe try out another project while you wait!)
Glue on the shineys
When it's dry, tape, glue, or staple the crown together and bow to the royalty. This is a great prop for dramatic play as well as a fun art project!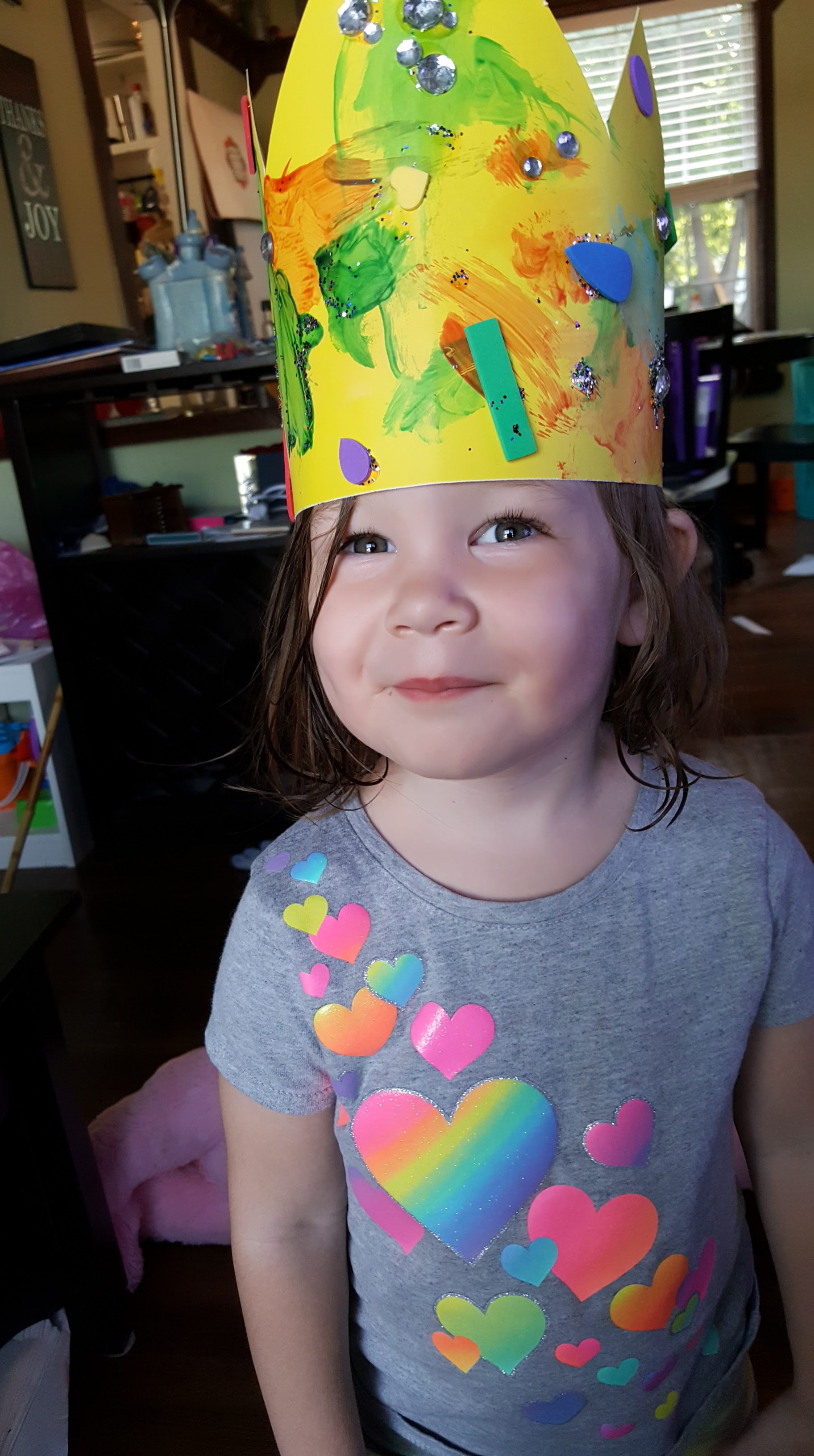 2.) Caterpillars and Butterflies
I love this project because it does so much in one activity! Art, Fine motor skills, the science of a butterfly's metamorphosis, and a fun toy. For this you'll need:
Pipe Cleaners
Coffee Filters
Washable Markers
Beads
Spray bottle of water
Make the Caterpillar
First loop one end of a pipe cleaner and twist to keep the beads from falling off, then thread beads on. How much help you give will depend on the age and maturity of the child. I love teaching threading with pipe cleaners because they won't flop or fray like string and thread will! Threading is an important fine motor skill for toddlers and preschoolers, and even older kids have fun with choosing colors and experimenting with patterns.
Once your child is satisfied (or bored) with the threading, twist off the end like you did before and bend another pipe cleaner in half around the loop and twist to make antenna. You can get creative here too by either cutting them short, twirling them, or keeping them long!
Make the Cocoon
Now take out your coffee filters and markers and let your child color and scribble. The more colors the better! If your caterpillar is longer, you might need two coffee filters.
Help the child roll the caterpillar up in the cocoon. Now is a good time to talk about the metamorphic process!
Spray the wrapped caterpillar with water. Make sure the filter gets really wet.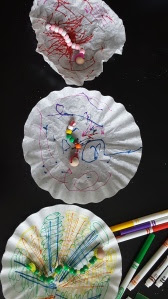 I did this right before nap time so we told the caterpillar goodnight, then I came back out to spread the coffee filters back out so they would be dry by the time she woke up.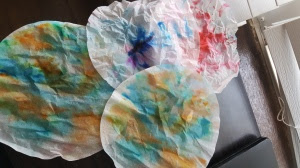 Make the Butterfly
This part you can do alone with smaller kids so they can see the "magic" of the caterpillar turning into a butterfly. Or you can let older kids try it on their own.
Once the coffee filters are dry, twist a third pipe cleaner around the middle of the caterpillar the again around the coffee filter. And you're done!
3.) Love Is… Painting
This one requires a little more prep and artistic work for mom. But you'll not only have a fun project to do with your little one, but also an adorable keepsake or gift that's perfect for Mother's day, Father's day, or Grandparents.
Begin by painting a canvas a solid color. You can have the toddler help!
When it's dry, write on the canvas with a sharpie or paint pen.
Now paint your child's hand and feet a contrasting color to the background and make prints in the spaces you left. For mine, the feet became the "V" and the hand stood in place of the "A"
Let it dry, then display!
4.) Rock Painting
Paint is fun. But younger kids will often lose focus quickly, making you wonder if it was worth the prep and mess clean up. However, the more senses we appeal to, the longer toddlers and preschoolers will stay engaged. So for this project, we're just going to paint. But instead of paper, pull out those river rocks you collected from your last vacation! The bumpy and rough texture combined with trying to get the smooth, wet paint to cover it, will keep the little ones much more focused. You can also provide some shineys to stick on and make some treasures to hide and search for later.
You might even find a local rock hiding group and use the rocks there!
5.) Foil painting
This was a Pinterest find that I wanted to try. Literally, all you need is paint and foil! you can also add a little dish soap to the paint to keep it from flaking when it dries.
The foil has a fun texture and sound when touched, so it keeps toddlers engaged for longer. Remember, the more senses we can appeal to the more toddlers and preschoolers will have to keep their focus. For my little one, this quickly turned from traditional painting, to finger painting, to a full sensory exploration! Just be ready for the mess afterwards!
Bonus Project!
If all this painting makes you think of one thing
"All. The. Mess."
Then here's a bonus project for you!
All you need is a zippered plastic bag and some paint. Tape helps too.
Pour a few colors of paint into the bag. I like to choose colors that mix well.
Zip the bag shut.
Tape it to the window, table, or just hand it over to the child.
Viola! Mess-free finger painting!
Hope you enjoyed these five art project ideas for you to do with your toddler or preschooler! Check out my blog for weekly project ideas for your kids and for you. Whimsyroo.wordpress.com
ABOUT AUTHOR

Samantha is the owner of the WhimsyRoo blog and shop. The mission of WhimsyRoo is to spread creativity and whimsy to mothers and their children, no matter their skill level or time constraints!
Samantha is also a dance instructor for ages 2-18, and the mom of a beautiful three year old girl.
She can also be found on Facebook, Instagram, and Pinterest!
Facebook – @whimsyroo
Instagram – @whimsy.roo